Beguiling the Earl
Tagline: Compelled to court one woman when he desperately wants another…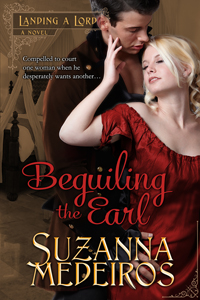 Her whole world has changed…
Until her sister's marriage less than one year before, Catherine Evans never expected to have a London season. Now that her prospects have changed, she hopes to capture the heart of the man who can never be merely a friend.
He is bound by duty…
The Earl of Kerrick has tried to see his best friend's sister-in-law as a younger sister. But just when he realizes his feelings for her go much deeper, duty forces him to court another.
They both want what they cannot have…
It is supposed to be a brief courtship in name only. As Kerrick works to free himself so he can finally pursue the woman he craves, outside forces conspire to ensure he marries the wrong woman.
Beguiling the Earl is book 2 in the Landing a Lord series. (Approximately 58,000 words.)
---
Amazon US (UK, Canada)  ~  Nook  ~  Google Play  ~  iBooks  ~  Kobo  ~  Smashwords
---
Excerpt:
Chapter One
Catherine Evans shouldn't have been bored. She was in London at a crowded ball and was dancing with a handsome man. Heaven knew she'd been anticipating her first season for months—ever since she'd learned the previous fall that her sister would soon be marrying the Marquess of Overlea. That event had completely changed their lives for the better. Until the day her sister had made the announcement, she'd never thought she would actually find herself in town, attending all manner of balls and other evening entertainments. She'd been looking forward to spring with increasing excitement ever since.
Now, less than one month into the season, she was already tired of the endless social demands. Balls at least once a week, musicales, routs, and visits to the theater. She'd imagined the whole experience would be more exciting. Knew it would have been if one man were present, a man who'd promised to be here to dance with her when she'd met him last fall.
She smiled politely at her partner, Viscount Thornton, as their gloved hands met briefly while they moved through the figures of the country dance. He was only a few years older than her, and she had to admit he was very handsome with his blond hair and blue eyes. She couldn't help but measure him against the man she still looked for at every ball, and in comparison he seemed little more than an eager boy.
When the dance was over, he led her back to her sister. She accepted his compliments on her grace of movement with cool reserve and redirected the conversation back to the much safer subject of the weather. Thornton made no secret of his admiration for her, and she suspected he would become a nuisance if she encouraged him even slightly.
It was with some relief that she spotted Louisa and Nicholas a few feet away. He stood with his broad back to the dance floor, and it was only as she neared him that she remembered her brother-in-law had worn a coat of deep blue while this man wore black. A fluttering sensation started low in her belly.
When Louisa spotted her, she said something to her companion and he turned to greet her. The fluttering sensation blossomed into a full riot of butterflies, and she was powerless to stop the smile that spread across her face.
"Kerrick," she exclaimed.
She managed a quick smile of dismissal in Thornton's direction before hurrying across the last few feet that separated her from the man she'd been waiting to see again. She stopped just short, her breath far too uneven to have been caused by the light exercise of the dance. She almost reached for his hands but resisted the impulse. She'd learned enough during her time in London to know such a display of affection would cause raised eyebrows and not a small amount of gossip.
"Miss Evans. It is so nice to see you again."
He smiled down at her, his blue eyes crinkling at the corners, and joy unfurled within her. He was just as handsome as she remembered.
"You devil, you promised to dance with me during my season. And here we are, a full three weeks in, and you haven't attended even one of the balls."
He affected an expression of exaggerated dismay. "You wound me to accuse me of such negligence. Unfortunately, I had pressing matters to attend to which kept me from town."
She pretended to give his words careful consideration before replying. "I'll forgive you. But just this once."
His eyes shone with amusement. "Wretch."
She could only beam in reply. He turned back to Louisa, and Catherine had to be careful not to let her disappointment show.
"Have you received word from your brother?"
After learning the previous fall that Louisa had accepted the marriage proposal of Nicholas Manning, the Marquess of Overlea, their brother John had been furious. Nicholas's uncle had ruined their father and John couldn't bring himself to believe Louisa would align herself with that family. Louisa had hoped their brother would come around to accepting the marriage in time, but instead John had run off, leaving behind a note that stated he'd enlisted the help of a family friend in purchasing a commission in the army.
"No," Louisa said. "I've written to him but have heard nothing after his first reply." Her voice faltered before she continued. "I am so worried about him. He was never one to be so reckless."
Annoyance swept through Catherine when Kerrick took hold of her sister's hand and gave it a quick, reassuring squeeze. "Most young men are rash, but fortunately we eventually outgrow it. I am sure John is well."
Before Catherine could remind the pair that she was still present, they were interrupted by an older couple approaching their small group. The man was of average height and build, his thinning hair liberally sprinkled with gray. His wife, however, was a striking woman whose dark hair was only starting to show signs of gray around the temples. Kerrick introduced them as Lord and Lady Worthington.
"We wondered when you would return to town," Lord Worthington said, turning his attention to Kerrick. "Rose has been quite put out by your negligence."
Kerrick lifted a brow and replied with cool equanimity. "One wouldn't surmise that from her behavior."
Catherine followed his gaze and spotted a young woman who had been announced earlier as Miss Rose Hardwick, daughter of Lord and Lady Worthington. The girl was about her own age and stood several feet away, surrounded by a group of young men who vied for her attention. Catherine wasn't surprised given the girl's almost radiant beauty. Rich chestnut curls framed a fair face that was uncommonly pretty. Her eyes sparkled, her lips pouted, and her cheeks bloomed with a rosy glow. With her pale hair and coloring, Catherine felt dull and lifeless by comparison.
Worthington shrugged. "She's young. Did you expect her to just stand in a corner and pine away for you?"
Lady Worthington was quick to add, "She merely flirts with those boys. She knows with whom her future rests."
Shock rolled through Catherine at the older woman's words, and her gaze swung back to Kerrick. His expression hadn't changed, but he didn't deny Lady Worthington's assertion.
"She seems to be enjoying herself quite well without my attention."
"Nonsense," Worthington said. "That's because she doesn't know you're here. We only just spotted you ourselves. Though I can't imagine why you wouldn't have sent word to us before now."
"I only just arrived last night," he said.
Worthington nodded, but it was clear Kerrick's reply hadn't satisfied him. He turned back to Catherine and Louisa. "Lady Overlea, Miss Evans, if you will excuse us?"
Catherine merely nodded in reply. She looked again at Rose Hardwick, her thoughts full of the implication of the older man's words. She refused to believe there was an understanding between Rose and Kerrick. The fates wouldn't be so cruel.
Determined to learn the truth, she turned to question him, but Kerrick had already stepped away to speak to the older couple in private. Her dismay grew when they turned, as one, to approach Lord and Lady Worthington's daughter. The group of men dispersed at her father's presence, but a few hovered close by in case they were given another opportunity with her.
Her dismay turned to outright disbelief as she watched Kerrick bow over the young woman's hand and lead her out onto the ballroom floor.
©2014 Suzanna Medeiros
Send to Kindle