Landing a Lord series
Dancing with the Duke

Book 0.5 – A Novella

Loving the Marquess

Book 1 – A Novel

Beguiling the Earl

Book 2 – A Novel

Dancing with the Duke is a prequel novella to the Landing a Lord series. (Approx. 13,000 words.) Read more here.

It is available now from:
All Romance eBooks
Amazon (US, UK, Canada)
B&N, iTunes, Kobo, Smashwords


Loving the Marquess is book 1 in the Landing a Lord series. (Approx. 76,000 words.) Read more here.

It is available now from:
All Romance eBooks
Amazon (US, UK, Canada)
B&N, iTunes, Kobo, Smashwords

Beguiling the Earl is Book 2 in the Landing a Lord series.

Coming Soon
Hathaway Heirs series
Lady Hathaway's Indecent Proposal – Book 1 (a novella)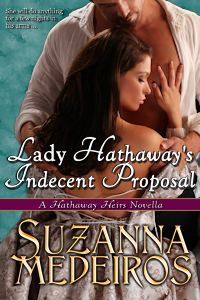 The newly widowed Miranda Hathaway asks her former love, the Earl of Sanderson, to help her conceive a child—one whom she means to pass off as the next Hathaway heir. Miranda knows she is infertile, but her deception gives her three weeks with Sanderson. He plans to use that time to finally consign Miranda Hathaway to the past, while she hopes to build memories that will last her a lifetime.
Read more about Lady Hathaway's Indecent Proposal and read an excerpt here.
Available now from:
All Romance eBooks
Amazon (US, UK, CA)
B&N, iTunes, Kobo, Smashwords
Other Books
Dear Stranger (a novella)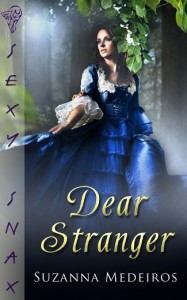 At a masked ball, where no one is what they seem, a jaded rake is surprised by his reaction to the one woman he should not pursue.
Find out more about Dear Stranger and read an excerpt here.
Available now from:
All Romance eBooks
Amazon (US, UK, Canada)
B&N, Kobo, Totally Bound