Today we have an excerpt from Love After Waterloo by Suzi Love. Enjoy!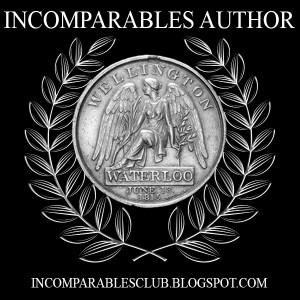 Love After Waterloo, by Suzi Love
Lady Anne Melton joins her brothers on the continent after the death of her soldier husband, hoping to keep her unborn baby from the clutches of his strict relations. With one brother an army physician and the other on Wellington's staff, Anne uses her nursing skills at the battlefields and feels safer with them than in London. Captain Gabriel Belling deems ladies near the army an unnecessary distraction for soldiers and makes his feelings known to Anne when they meet in Brussels.
But when Gabe, Anne, and her son travel with the last group of wounded to leave Waterloo, they learn to depend on each other's skills, Gabe as a soldier and leader and Anne as a compassionate nurse, during their skirmishes with crazed deserters from both armies. In London, social restrictions force them apart, with Gabe opening his club for returning soldiers while Anne battles her son's grandparents.
When Anne begs for Gabe's protection, will their love be enough to overcome their troubles and form a family?
Excerpt (Copyright 2015 Suzi Love, all rights reserved)
"Mama, why doesn't that man like me?" Daniel asked, his singsong voice echoing loudly around the walled chamber.
Slowly, the Captain turned to face them. He took two steps closer to Daniel and squatted as low as he could manage on one leg, while keeping his bandaged leg straight and using it for balance. "I apologize, your lordship." He spoke directly to Daniel. "My name is Gabe, and I don't dislike you. In fact, you remind me of my three nephews and I like them. A lot." He sighed. "I have several decisions to make, difficult decisions, but that isn't an excuse for bad manners." He glanced up at Anne. "As I'm certain your mother has told you."
Daniel nodded. "Uncle Bren told me to be good for Mama, and you, 'cause you're the Captain and you're taking me and Mama to En…En…" He tugged on her hand. "Where we going, Mama?"
Lady Melton smiled at her son. "England, darling. We're going to England."
Daniel pulled his hand from hers and stepped up to the Captain, careful to avoid his bandaged leg. His tiny hand rested on Gabe's shoulder and he patted him. "My mama will help. Mama knows 'bout Englin, and she makes sores better." He pointed at Gabe's outstretched leg. "Kisses make it better."
Anne gasped, while Gabe chuckled. His amber eyes held a twinkle as he spoke to Daniel. "I'm sure your mama's kisses would make any man feel better." He looked up at her and smirked. "Will you kiss me, Lady Melton?"
Anne groaned and put her hands to her burning cheeks, thankful that Daniel's focus was on his new friend and not her red face. When Gabe stood and slowly drew his bandaged leg under him, Anne realized that he didn't have his crutch.
"Captain, please, lean on me." She moved closer and was relieved when, with a muffled groan, he slid his arm around her shoulder and settled a little of his weight on her.
His eyes closed momentarily and he shuddered. Daniel reached up and again patted Gabe's hand, before turning begging eyes towards her. "Mama, make man's sore better?"
She'd planned to evaluate the Captain's capabilities from a distance, thereby avoiding another discussion about scandalous ladies who assisted surgeons, but between her son's pleading and the Captain's obvious pain, she had no choice. Years of caring for the sick meant she could no more turn her back on a person in pain than she could feign interest in endless drawing room discussions on the weather. Treating the Captain's wound, and reducing his pain, might also lead to a shorter journey, because his focus would be on maps and roads rather than his leg.
"Captain Belling−"
"Please, as we're to live in close quarters for a time, let's dispense with formality." He gave her the sort of winsome smile that would cause many women to swoon. "My name is Gabriel, or Gabe if you wish."
She hesitated. A week ago, she'd thought the man insufferable, so suddenly becoming the recipient of his debonair charm made her squirm. The first lesson she'd learned when making her social debut was that rogues and rakes should never be trusted. Still, if a temporary truce ensured an easier journey for Daniel, she'd disregard her previous impressions of him as narrow-minded and condescending, and treat him as a friend.
She nodded. "Gabe, will you allow me to inspect your wound? I've had considerable experience with slashes from swords, and I know several methods to increase blood flow, reduce the swelling, and lessen the pain."
He stiffened, stood to his full height, and removed his arm. "Thank you for the offer, Lady Melton, but a surgeon will treat my laceration when we reach London."
"But that could be a week. Ten days." She glowered at the obstinate man.
"And my name is Anne."
"I'm hoping for a quicker trip than that, Anne, depending on how many problems we encounter."
"You mean, how many deserters."
She glanced down at Daniel who had returned to lean heavily against her side, a sign he was ready for a meal and bed. After picking up her son, she followed Gabe as he hobbled back to the table, took up his crutch, and used it instead of her shoulder. Not that she'd tell him, but she often missed the feel of a strong male arm enclosing her. Missed a man's body touching hers, even if that heavy maleness meant extra weight to support.
Gabe watched Daniel carefully and took his time replying. "We're planning on a straightforward journey directly to the coast, and then a smooth sail across the Channel. So let's not dwell on what may or may not happen along the way. Every soldier in our group suffers from some sort of injury, but we're well trained and will keep you safe." He smiled at Daniel and reached out his hand. "You'll soon be in England, young sir."
*****
About Suzi Love
Tag Line- Making history fun, one year at a time
I'm Suzi Love, an Australian author of historical romances from the late Regency to early Victorian years, with a little bit of the Australian outback thrown in.
I've had a lifetime fascination with all things old, weird, and exotic. I love to travel, visit historic places, and talk to crazy characters. I also adore history, especially the grittier and seamier side, so I write about heroes and heroines who challenge traditional manners, morals, and occupations, either through necessity or desire. I hope you'll travel with me again.
Reviews are like gold to authors, so I'd really appreciate a short review.
And/ or a rating for this book.
Want to be the first to know when I release a new book?
Get early alerts by signing up at the top right of my WEBSITE.
Want to know what I get up to each day?
Visit my Rebel Mouse Magazine or Suzi Love Daily Gossip newspaper.
I love hearing from my readers, so feel free to write to me.
Suzi Love
Cannon Hill Post Shop,
PO Box 191, Cannon Hill,
Queensland, 4170,
Australia
Where to find Suzi Love:-
Please visit my WEBSITE
Follow my books on Goodreads
Enjoy my historical images PINTEREST
Like me on Facebook   – Follow me on Twitter
Email me here: suzi@suzilove.com
Send to Kindle