I've fallen out of the habit of updating my blog because I know that blog readership across the internet, in general, is down. I'm still posting updates to Facebook, though (link in my header above) and to my newsletter list (you can sign up on the sidebar of my blog), but thought I'd also post here for those of you who might be subscribed to my blog.
My biggest news is that I have a new release coming out next week. The Captain's Heart is a Hathaway Heirs novella and is part of The Incomparables box set, which is available now for pre-order. I have more information about the box set below, but if you want to read a blurb and excerpt from my story, or see where it is available for preorder, just click on the image below to be taken to the book's page on my site.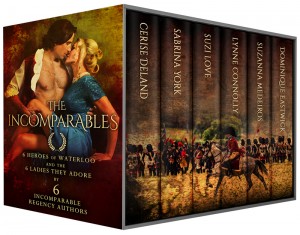 The Incomparables: 6 Heroes of Waterloo and the 6 Ladies They Adore
This limited edition box set includes 6 scorching romances that commemorate the 200th anniversary of the June 18, 1815 Battle of Waterloo.
From the Duchess of Richmond's ball in Brussels to the Battle of Waterloo and beyond, join these six unforgettable heroes as they journey back from the physical and emotional trials of war and discover the passion that thrills the body can also heal the heart.
Coming June 18th from bestselling and award winning historical romance authors Cerise DeLand, Sabrina York, Suzi Love, Lynne Connolly, Suzanna Medeiros and Dominique Eastwick.
Starting tomorrow, I'll be posting an excerpt from each of the stories in the collection!
ooOOoo
What else is new? Well, if you're reading this on your phone or tablet, or reading this post with a newsreader, you may not be aware that my site has a new design. Let me know what you think!
ooOOoo
And finally, I've mentioned this on my Facebook page but haven't announced it here yet, so if you haven't already seen it, check out the image below.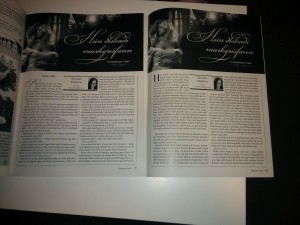 That's a photo of the first two installments of Loving the Marquess, which has been translated into Icelandic and is being serialized in the magazine Heima er bezt … how cool is that!
Until next time, happy reading!
Suzanna
Send to Kindle