A strange thing happened two weeks ago when I set out to query agents for my completed full length historical romance novel. I'd no sooner sent out seven query letters – this first batch went out to dream agents whose attention I imagine will be very difficult to snag, but I figured it was worth trying – than I abruptly realized I wasn't sure if I still wanted to jump though all the hoops involved when one pursues traditional publication. You know those hoops: query widely to find an agent, edit your novel (again!) based on feedback from that agent, wait while your agent tries to generate interest in your work from a traditional publisher, sell!, then wait months for the book to be released after yet more edits. That whole process would take at least a year for a first time novelist, and more likely closer to two years.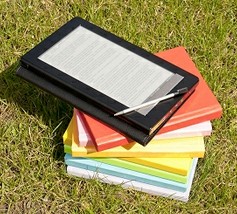 When I wrote this novel, I always imagined I'd try to sell it to New York. I'm very happy to send novellas and short novels to digital-first publishers, but I always thought I would send my full length novels to New York. My ultimate dream was to be published though Avon. But now that the book is finished, I'm no longer sure I want to pursue that traditional path. I've heard too many stories about midlist authors who don't make money beyond their very small advance. On top of that, I'm not sure I have the patience to wait months and months to learn whether my latest work has sold. I'll also be honest and admit that I want to write the books that interest me, and not the books that my agent or editor think will sell.
Not too long ago I wouldn't have had any choice in the matter – not if I wanted to get my book out there for others to read. The publishing landscape has changed so much in recent years, though, and now it's much easier to self-publish your work and make it available to others. I have to admit I'm leaning quite strongly in this direction.
I'm a firm believer in putting out a professional product and if I decide to go ahead and self-publish this novel (the first in a three-book series) I intend to commission a professional cover and have my work edited by a freelance editor. I came into a modest inheritance recently that would cover most of the costs of self publishing this novel and I can't help but think that perhaps receiving this inheritance was a sign from the universe telling me to pursue this path. I have very realistic expectations, and by no means do I think self publishing is a quick road to riches, but then again, neither is traditional publishing.
So here I sit, at a fork in the road. Will I pursue traditional publication or will I decide to strike out on my own and self-publish? I'm going to go ahead and start working on the second book in the series while I decide. If I do publish on my own, I've decided that I won't be releasing the first book until the first draft of the second book is done, so I have plenty of time to decide.