Coming Soon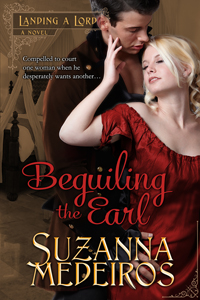 Beguiling the Earl
From the moment she met him, Catherine Evans knew the Earl of Kerrick was the one man for her. Now, during her first Season, she hopes he will come to feel the same way about her.
Kerrick has tried to see his best friend's sister-in-law as a younger sister…especially since a familial obligation has him all but promised to another. But he cannot keep his feelings for Catherine from turning into something deeper.
Duty compels Kerrick to court another woman. It is supposed to be a courtship in name only, but outside forces seem determined to keep him and Catherine apart.
Beguiling the Earl is the second full length novel in the Landing a Lord series and will be available soon!
Stay tuned for further details!
Available Now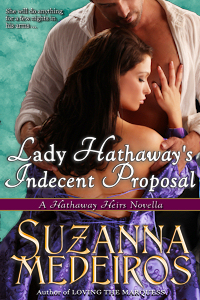 The newly widowed Miranda Hathaway asks her former love, the Earl of Sanderson, to help her conceive a child—one whom she means to pass off as the next Hathaway heir. Miranda knows she is infertile, but her deception gives her three weeks with Sanderson. He plans to use that time to finally consign Miranda Hathaway to the past, while she hopes to build memories that will last her a lifetime.
Lady Hathaway's Indecent Proposal is book 1 in the two-book Hathaway Heirs series. Read the first chapter of this novella here.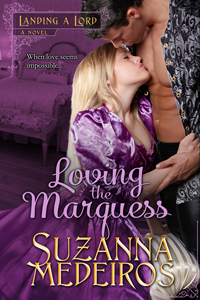 To save her family from destitution, Louisa Evans must turn to the head of the family that ruined hers. But the Marquess of Overlea hides a secret that will turn her whole world upside down.
Loving the Marquess is book 1 in the Landing a Lord series. Read the first chapter of the book here.

The Duke of Clarington intends to stay far away from all the young ladies and eager mamas hoping to ensnare a duke that Season. But his plan falls into tatters when he sees Charlotte Grant again for the first time in many years.
Dancing with the Duke is a prequel novella to the Landing a Lord series. Read an excerpt from this novella here.
Send to Kindle