New Releases
The Incomparables: 6 Heroes of Waterloo and the 6 Ladies They Adore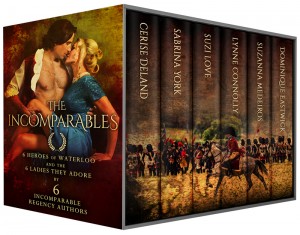 This limited edition box set includes 6 scorching romances that commemorate the 200th anniversary of the June 18, 1815 Battle of Waterloo.
From the Duchess of Richmond's ball in Brussels to the Battle of Waterloo and beyond, join these six unforgettable heroes as they journey back from the physical and emotional trials of war and discover the passion that thrills the body can also heal the heart.

Available now from bestselling and award winning historical romance authors Cerise DeLand, Sabrina York, Suzi Love, Lynne Connolly, Suzanna Medeiros and Dominique Eastwick.
Read more about this set, including an excerpt from my story, The Captain's Heart, here.
Beguiling the Earl
Catherine Evans knows the Earl of Kerrick is the one man for her. During her first season, she hopes he will come to feel the same way about her.
Kerrick has tried to see his best friend's sister-in-law as a younger sister. But just when he realizes his feelings for her go much deeper than friendship, duty compels him to court another woman.
It is supposed to be a brief courtship in name only, but outside forces seem determined to see Kerrick married to that other woman and to keep him and Catherine apart.
Beguiling the Earl is book 2 in the Landing a Lord series. Read the first chapter here.
News
May 2015 – My website has a new look! Purple has always been one of my favorite colors and I really love the new look of my site.
November 5, 2014 – Added a new "Coming Soon" page so you'll know what to expect next! Also added the playlist for Beguiling the Earl to the "Extras" page.
November 3, 2014 – The novella Dear Stranger is now available everywhere at a lower price.  Please note that this book was previously published by Totally Bound Publishing in 2012.
October 7, 2014 – Beguiling the Earl, book 2 in the Landing a Lord series, is now available everywhere!
Send to Kindle