New Releases
Taste of Scandal: Bad Boys, Sexy Scoundrels, and Regency Rogues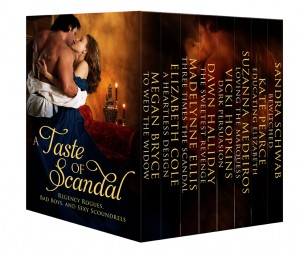 Bad Boys, Sexy Scoundrels, and Regency Rogues
Heat up your history with these eight amazing novels from USA Today bestselling authors and brand new voices in this box set! From Regency ballrooms to Victorian bedrooms, there's something here for every lover of steamy, sexy historical romance. Scottish highlanders, devilish dukes, noble spies, and witty aristocrats use humor, wits, and intrigue to get whatever — and whoever — they desire. But these daring heroes meet their match when they encounter bewitching beauties who want more than just a taste of scandal…
Megan Bryce — To Wed the Widow
George Sinclair would rather poke his eye out than appease his brother the earl, who thinks George ought to marry a dull, scandal-less wife. However, the oft-widowed Lady Haywood is a scandalous distraction that no gentleman can ignore.
Elizabeth Cole — A Heartless Design
"Heartless" Cordelia Bering refuses every marriage offer she receives. A marriage could reveal her secret double life. Then she meets Sebastien Thorne, a spy in the service of the Crown. He is determined to learn all her secrets, all her desires…and ensnare her heart.
Madelynne Ellis — Three Times the Scandal
Engaged to a man she despises, Fortuna Allenthorpe abandons duty and flees into the night with a notorious rakehell. Giles Dovecote isn't looking for a wife, but Fortuna makes him want things he considers off limits. How long can he hold fast to his principles, if they mean surrendering the woman he loves?
Dawn Halliday — The Sweetest Revenge
When the Earl of Leothaid took Isabelle Frasier's innocence, the resulting scandal drove her to England in humiliating exile. Seven years later, she joins with two other women to seek vengeance. But as Isabelle surrenders to her reawakening feelings for the wicked earl, she faces an impossible choice…
Vicki Hopkins — Dark Persuasion
A cruel accident left Charlotte Gray blind at the age of eight. However, her aristocratic neighbors have taken a peculiar interest in her welfare and hold a debutante ball in her honor, where two brothers become rivals for her affections. Inexperienced and vulnerable to a fault, Charlotte begins to traverse the unfamiliar world of courtship, discovering that love is truly blind…
Suzanna Medeiros — Loving the Marquess
To save her family, the desperate Louisa Evans must turn to the head of the family that ruined hers. The Marquess of Overlea marries her for reasons of his own. After the wedding, he reveals he inherited the same illness that killed his father. To save the marquisate, he intends to have another man father his heir. But his plan becomes complicated by an almost desperate need to claim Louisa for himself.
Kate Pearce — Educating Elizabeth
When Miss Elizabeth Waterstone encounters the enigmatic Duke of Diable Delamere, she is determined to exploit his rakish expertise. The duke agrees to teach her everything she needs to know, but soon finds himself needing more than her innocent skills in his bed. Together, they must work together to save the Prince Regent, even as they fall into a dangerous love.
Sandra Schwab — Bewitched
After a magical mishap, Miss Amelia Bourne is stripped of her powers and sent to London in order to be introduced into polite society–and to handsome, rakish Sebastian "Fox" Stapleton. But she and Fox are now pawns in a mysterious, deadly game. Will Amelia be strong enough to battle the evil that lurks in the dark, and will she be able to claim her heart's true desire?
---
---
The Incomparables: 6 Heroes of Waterloo and the 6 Ladies They Adore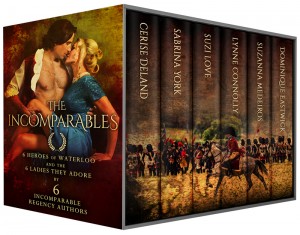 This limited edition box set includes 6 scorching romances that commemorate the 200th anniversary of the June 18, 1815 Battle of Waterloo.
From the Duchess of Richmond's ball in Brussels to the Battle of Waterloo and beyond, join these six unforgettable heroes as they journey back from the physical and emotional trials of war and discover the passion that thrills the body can also heal the heart.

Available now from bestselling and award winning historical romance authors Cerise DeLand, Sabrina York, Suzi Love, Lynne Connolly, Suzanna Medeiros and Dominique Eastwick.
Read more about this set, including an excerpt from my story, The Captain's Heart, here.
News
May 2015 – My website has a new look! Purple has always been one of my favorite colors and I really love the new look of my site.
November 5, 2014 – Added a new "Coming Soon" page so you'll know what to expect next! Also added the playlist for Beguiling the Earl to the "Extras" page.
November 3, 2014 – The novella Dear Stranger is now available everywhere at a lower price.  Please note that this book was previously published by Totally Bound Publishing in 2012.
October 7, 2014 – Beguiling the Earl, book 2 in the Landing a Lord series, is now available everywhere!
Send to Kindle