New Releases
Forbidden in February (A Year Without a Duke)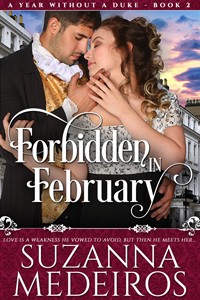 Love is a weakness he vowed to avoid, but then he meets her…
Robert Milton's very existence has proven to him that romantic entanglements are to be avoided at all costs. But then he meets Isabel Durham, and his desire for her could cost him the one thing he's vowed never to lose—his heart.
* * *
Forbidden in February is book 2 in the multi-author series, A Year Without a Duke. It is a standalone book that can be read on its own.
Read an excerpt from this story here.
To read more about the other books in the A Year Without a Duke series, please visit the series website here. 
---
News
January 22, 2015 – More information added, including an excerpt, from the book Forbidden in February.
May 2015 – My website has a new look! Purple has always been one of my favorite colors and I really love the new look of my site.
November 5, 2014 – Added a new "Coming Soon" page so you'll know what to expect next!
November 3, 2014 – The novella Dear Stranger is now available everywhere at a lower price.  Please note that this book was previously published by Totally Bound Publishing in 2012.
October 7, 2014 – Beguiling the Earl, book 2 in the Landing a Lord series, is now available everywhere!
Send to Kindle